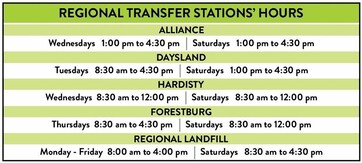 Garbage and Recycling
Residential Garbage Collection
The Village of Forestburg has a garbage pickup service provided by Flagstaff Regional Solid Waste Management Association (FRSWMA).


FRSWMA would like to remind all residents who receive Residential Garbage Collection of the following procedures to ensure there are no interruptions in garbage collection:
Access to refuse containers must be free of snow and other debris.
Garbage must be placed in proper container no more than 20 feet ​from the lane way (they will not enter private property to pick up garbage).
Refuse must be placed in containers prior to 7:30 a.m. on Tuesday.
Refuse storage area must not be blocked by cars, trailers, etc.
Ashes of any kind will not be picked up due to the danger of fire.
All animal waste and kitty litter must be double bagged and sealed.
Shrubs or tree limbs must be tied into bundles no longer than 3 feet in length.
Maximum number of bags is 4 per week, bags must not weight more than 44 pounds (20 kg).
Loose waste in garbage receptacles will not be picked up, all loose waste must be bagged.
Collection is made between 7:30 am and 4:30 pm on Tuesdays.
If you have any questions or concerns about the above procedures, please call Flagstaff Regional Solid Waste Management Association at 780-384-3950.
Transfer Station
We have a transfer station located adjacent to the Forestburg Airport grounds approximately
one mile west of the Village on Highway 53.
The hours for the site are: 
Thursday 8:30 am – 4:30 pm
Saturday 8:30 am – 12 noon
There is a fee of $5.00 charged for all users delivering any amount up to a ½ ton limit.
This is to help cover the cost of transporting waste from the transfer station to the landfill.
An additional appliance fee of $5.00 per appliance and $20.00 for Freon will be charged if applicable.
For more information on additional fees and hours of operation for other transfer station sites within Flagstaff County please see Flagstaff Waste.
Click HERE for Transfer Station Fees
Flagstaff Regional Solid Waste Management Hours: Mon-Fri 8:00 AM - 4:30 PM
Saturday 8:30 am – 4:30 PM   780-384-3950. 780-384-3926 (Fax)
Recycling
Bottles, cans, etc. can be taken to the Forestburg Recycling and Bottle Depot (780-582-2333) located across Highway 53 at 4706 – 43 Avenue.
Hours of operation are:
Monday 10 am - 5 pm
Wednesday 4:00 pm - 7 pm
Friday 12 pm - 4 pm
Saturday 10 am - 5 pm
Recycling bins for cardboard, plastics and paper are located across from the public works shop at 5007 – 50 Avenue.
Please ensure that all cardboard is flattened prior to putting it in the recycling bins.