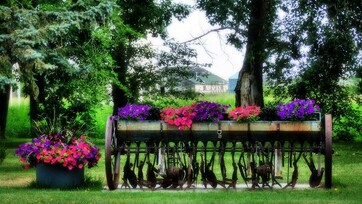 Communities in Bloom
The Village of Forestburg has been involved in some capacity with Communities in Bloom since 1998.

Success in the program came early with Forestburg winning the NATIONAL COMMUNITIES IN BLOOM

CHAMPIONSHIP in 1999. However, the real success has been the way the community consistently shows its spirit by establishing attractive private and public spaces that are a pleasure to live in year round.

In the past few years Forestburg has participated in the non-competitive/mentoring category of the CIB program. There are eight criteria for the program: tidiness, environmental effort, community, involvement, heritage, urban forestry, landscaped areas, floral arrangements and turf areas.
The local committee, in cooperation with the municipality, the agricultural society and the community at large strives to maintain high standards in all of these areas.
Volunteers are always welcome and needed to help keep our community welcoming and attractive.

Weekly work bees every Monday night at 6:30 pm starting May through September. It is an enjoyable way to meet and visible people and to get to know the community. No commitment necessary.

Questions about the committee and the work we do?
Please call the Village office at 780-582-3668.

Past Successes

2012 International Challenge - Small Recognition for Signature Forest Landscape
2010 National Winner 1 - 1000 Category Recognition for Outstanding Volunteer Gardens
2009 Provincial Winner 751 - 2000 Category Community Centre Park Landscaping
2008 5 Blooms Urban Forest Management
2007 5 Blooms (non-competitive) Museum - Wonderful Display of Memories and Creativity
2001 4 Blooms
2000 4 Blooms
1999 National Winner 1 - 1000 Category Special Mention in Community Involvement
1998 3 Blooms